Step into spring with the Romano bean stew with veal, an excellent alternative to the heavier goulash and other winter stews.
If you are one of those folks who likes to eat their meals "with a spoon," you'll love today's Romano bean stew with veal (aka boranija). Boranija is similar to other stews we've made, like Bosnian Veal Sauce (Sitni Ćevap), and Bosnian pot stew (bosanski lonac), yet it's lighter. Its main ingredient is the soft and steady Romano bean. From my quick google search, it looks that Romano beans are Italian, and it makes sense these would be grown here, due to Italy's proximity to the Balkans.
You can take a look at the preparation photos below to see what Romano beans look like. I haven't seen this type in a lot of grocery stores, but I have come across while at the farmer's market, so they're definitely grown in the US. You're welcome to use other kinds of beans, although Romano beans are my favorite for stews because of their shape: flat, wide with thin beans inside. Also, they're more elastic than other beans, you can almost fold them halfway before they snap. This type of shape makes them perfect for stewing. They don't take too much time to make, and the end result is a light, tasty, refreshing stew. A stew for the spring.
If you don't like veal, try other meats. It's all about letting this one simmer until you're ready to dip your spoon in.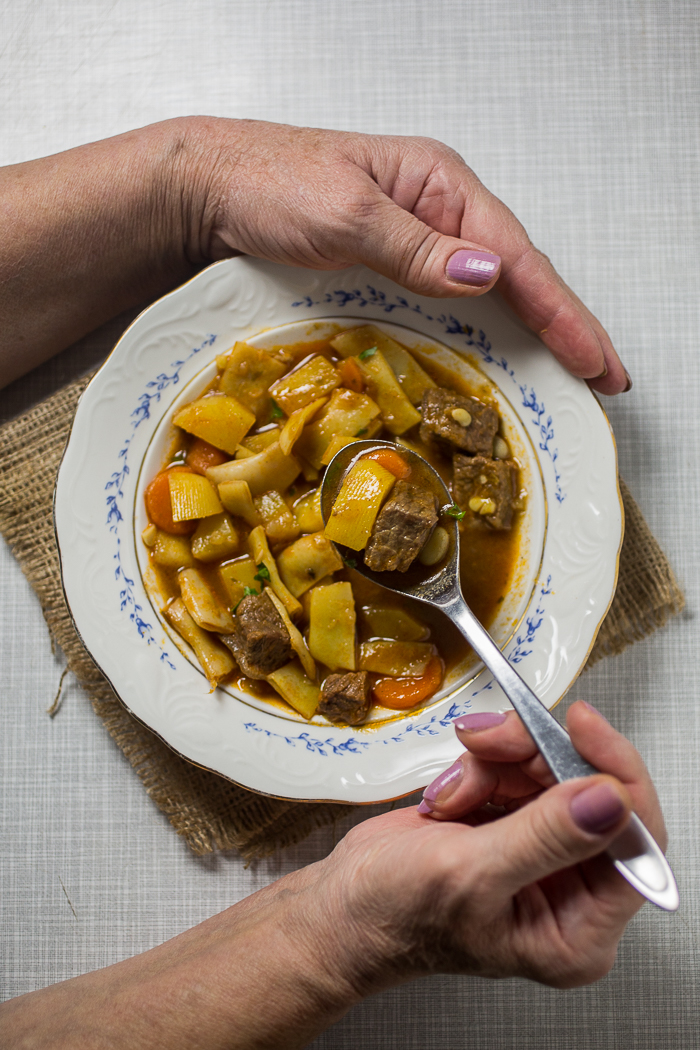 *Add water throughout cooking. Adjust volume based on desired thickness: 3 cups for thicker stew, 4-5 for thinner.