Learn to love fish: European hake (cod's cousin) with a Potato salad typically served with seafood.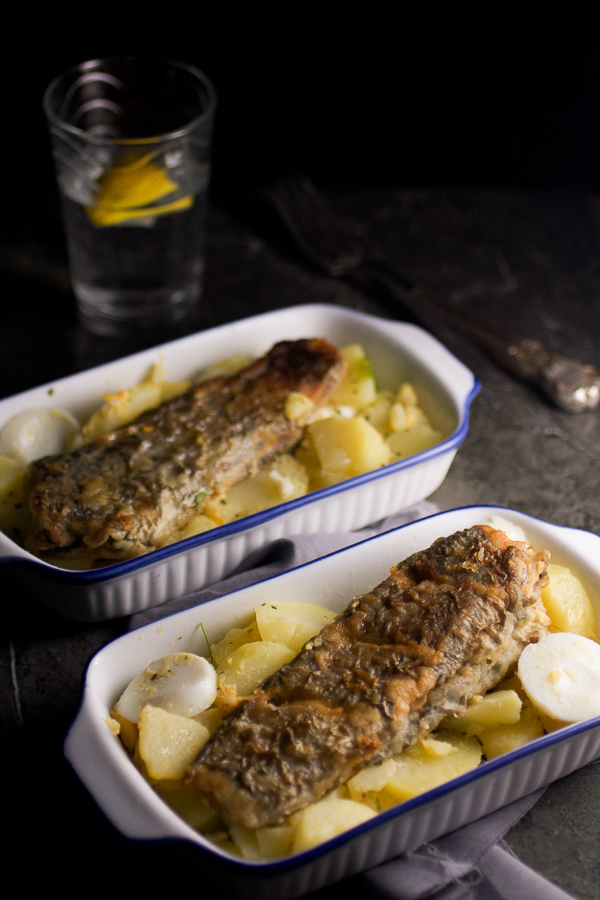 I ate a good amount of seafood when I was a child, but these days I have to remind myself to put fish on my shopping list. It could be because salmon seems to be the fish choice of the day and, I admit, I never learned to make it well. I like eating salmon, I do. But frying or baking – regardless of the recipe – my salmon does not come out juicy and soft as it's supposed to.
As the summer – although moody and uncertain – is arriving, it inspired me to look through the treasure chest that is seafood for a flavorful fish recipe to share with you. And thus the hake, cod's European cousin.
Hake is a sea fish, light on the stomach, but meaty so you feel as if you've actually eaten a hearty meal. It's sold frozen and fresh. I've used the frozen one for today, and I was skeptical about the process. However – maybe you can gleam from the photos – these hakes turned out to be some of the best fish I've ever had. No longer will salmon terrorize me by coming out dry and choppy. And if salmon is your favorite, I urge you to experiment a little bit with hake (or cod if you can't find hake). You may find your new favorite fish.
But any Serbian fish meal would not be complete without the potato salad typical for this area. I'm including a recipe for the one my mom makes. If you make this potato salad once, you will make it many times. Forget the mayo infused messiness of most potato salads. Serbian potato salad is basically a few cooked potatoes and hard boiled eggs, chopped up with yellow onion and spices, covered with a lemon (or vinegar) and oil (or olive oil) vinaigrette. See, very simple. But sophisticated in taste.  Potato softness, combined with onion crunchiness and lemon aroma, are an unparalleled seafood companion. (Isn't lemon perfect pairing with all, even chicken.)