I've yet to find a better way to serve Smoked Herring. This recipe is the best and, trust me, I'm not saying that because it's my recipe. Preparing the fish is the hardest step but, still, a very easy one. It's quick to make and it stays in the fridge for about a week or so. Always make it ahead of time to let it marinade a bit in its dressing.
A Nostalgia for Egypt: This salad is a speciality of the Easter Sham El Nessim holiday. It's made a day or two before you serve it. When we were kids, mom would have a few fish to clean up and prepare and I sat right there "helping" as in eating anything that didn't make it into the bowl. The big treat was when you cut through a fish and you found the fish roe intact. My friends, that was the treat and thank you gift for all the hard work of the cook and her daughter 

Serving Ideas: A side dish on your lunch or dinner table.On the breakfast table of Sham El Nessim.
Condiments: Serve with warm pita bread, slices of lime or lemon, cut cucumbers and lots of greens: green onions, chives, arugula, or lettuce. For a stronger citrus flavor, use lime.
Egyptian Smoked Herring Salad
Ingredients:
1 lb Whole smoked herring
5 green onions finely sliced at an angle
1/2 large bell pepper diced or 1 jalopeno pepper diced (spicy)
Juice of 2 limes
1 cup of vegetable oil or olive oil or a mix of both
12 pita breads
4 Lime or lemons cut ready to squeeze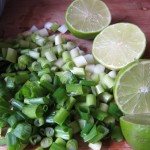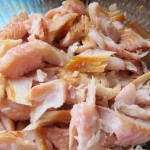 Directions:
– Clean the fish by removing the skin and any bones. Then cut it into 2 x 1/2 inch pieces.
– Mix the fish with all remaining ingredients and stir well without damaging the fish meat.
– Refrigerate for a day before serving.
– When ready to serve, warm the breads in a 350-degree oven for 3 minutes. Cut each pita into 4 pieces and put it in a bread basket.
– Serve the salad with the lime or lemons and the pita on the side.
~ Bel Hana ~