One of the simplest and tastiest ways to enjoy chicken and without adding any extra fat, oil or butter. When the smell of roasted chicken fills the house, you know you're in for a good meal.
Serving Ideas: On a winter day, start the meal with a soup, then add a salad or a side vegetables dish.  You will enjoy a heartwarming dinner with the family with minimum effort.  You can also serve the roasted chicken for lunch with a side salad.  Personally, I like to take this dish to potlucks or picnics. I make it with chicken drumsticks or thighs only.  It's an easy crowd pleaser.
Condiments: Tahini sauce or a yogurt cucumber dip are great with this dish as well.
Egyptian Roasted Chicken and Potatoes
Serving Size: 6-8 persons
Ingredients:
1 chicken cut into four pieces, 2 legs and 2 breasts
3 medium size potatoes, cut into small cubes
1 large onion, chopped, similar size to the potatoes
Salt, Pepper
Italian Herbs
(Optional) Red Chili flakes
1 cup of water
Directions:
Preheat the oven to 425 degrees. When cutting the onions and potatoes, make sure they're similar in size. Add the potatoes and onions to a baking pan, typically 15-inch x 10-inch x 2-inch. Add all the spices to taste and mix well. Add all the spices to the chicken pieces and mix well.
Put the chicken pieces on top of the potatoes and onions. At one corner of the pan, add the water slowly so that you don't disturb the spices on the chicken or the vegetables.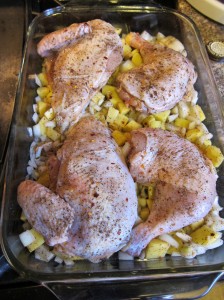 Bake in the oven for 35 minutes. Remove the pan from the oven and baste the chicken with the juices in the pan. Return the chicken to the oven and roast for another 10 minutes.
Remove the pan and let the chicken sit for 5 minutes. You can remove the chicken and cut each piece in two. Your chicken and potatoes are ready to serve!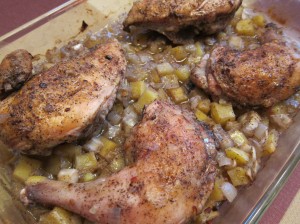 Egyptian Roasted Chicken and Potatoes