A truly Mediterranean dish, a refreshing combination of feta cheese and green fava beans.
This dish takes me back to the many many visits to my grandma's home.  My grandma was known for serving a huge meal with beautifully decorated dishes.  What she did to this feta cheese dish, how pretty it looked and the melody of flavors she put together simply turned this dish into a piece of art.  I'm excited to share it with you.
Serving Ideas: Typically served at breakfast. Makes a great starter or a dip at a party.  A great addition to a vegetarian menu.
Condiments: Serverd with pita bread or crackers.  It could easily be served on a bed of arugula salad with a simple lemon dressing.
Egyptian Feta Cheese and Green Fava Beans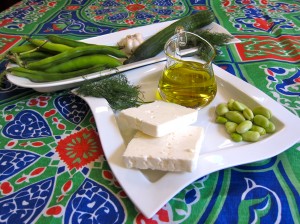 Egyptian Feta Cheese and Green Fava Beans
Serving Size: 4-6 persons
Ingredients:
20 pods of fava beans
10 ounces feta cheese
1 Tbs fresh dill, finely chopped
3 Tbs extra virgin olive oil
1 small cucumber seeded & chopped
1 clove of garlic, crushed and finely chopped
Directions:
– In a small bowl, combine the garlic with the oil and set aside
– In a large bowl, and with a fork, finely crumble the cheese.
– Remove fava beens from pods and add to cheese.
– Add cucumber and dill to the cheese.
– Discard the garlic and add the oil to the cheese.
– Finally, mix everything.  Move to your serving platter or bowl and add a final drizzle of olive oil on top.
~ Bel Hana ~