Easiest and most delicious Coconut Raffaello Balls recipe in the world. I promise!
I liked many chocolate bars as a kid, but one of my absolute favorites were little Raffaello balls.
You know the kind: small, coconut-y, they come in a package of threes. They have a little crunch when you bite in, this is a little wafer covered with shredded coconut. But the best part is the middle. Smooth, soft, creamy, sweet, hiding inside itself an almond.
Well I've discovered the recipe for Raffaello balls that go straight to that middle part. And it's perfect. And now we'll make it together.
These are great for when you have guests the same evening, and you're wondering what to do for dessert. As long as you have a few of these ingredients you're good to go. They're also fun to do for a holiday, keeping up to a week in the fridge. Great to bring to a picnic, or a school event.
And most importantly, you are sure to impress your family with these.
As the recipe is short, I won't keep you waiting. One thing I'll recommend is to get blanched almonds, also known as almonds without skin. Or you can make them yourself.
P.S. Other truffle like desserts on the site include the fig rum and the chocolate-hazelnut truffles.  I am also impartial to the chocolate cake rolls.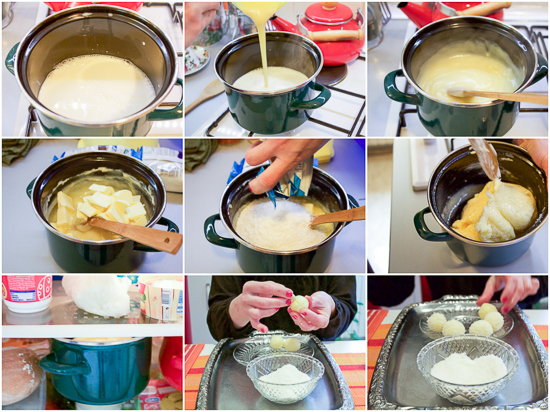 About 40 to 50 balls come out with this volume. You may have more or less depending on how large you shape the Rafaello balls. Serving size is 2.