Chocolate and preserve squares are little complicated of a dessert, but well worth the effort. This dessert consists of three layers of dough in between which is a filling made with preserves – in our case apricot or plum, but you're welcome to go ahead and try others, my only recommendation is to go for thicker ones – mixed with walnuts. This is then baked, and finally, glazed with chocolate icing. Heaven!
The complicated part is the dough (which becomes the crust). When butter, few other ingredients plus flour combine – result is a sticky, play-doh kind of dough that's difficult to maneuver. Luckily, the recipe doesn't require too much dough work, so don't let this scare you away. I am just mentioning it in case you start wondering why the dough is a bit hard to work with.
If you do your logistics well – which includes reading the steps a couple of times ahead of starting – you should be fine. The result will be magnificent, so I urge you to try making these squares at least once because you'll be hooked. And each consecutive time it'll get easier.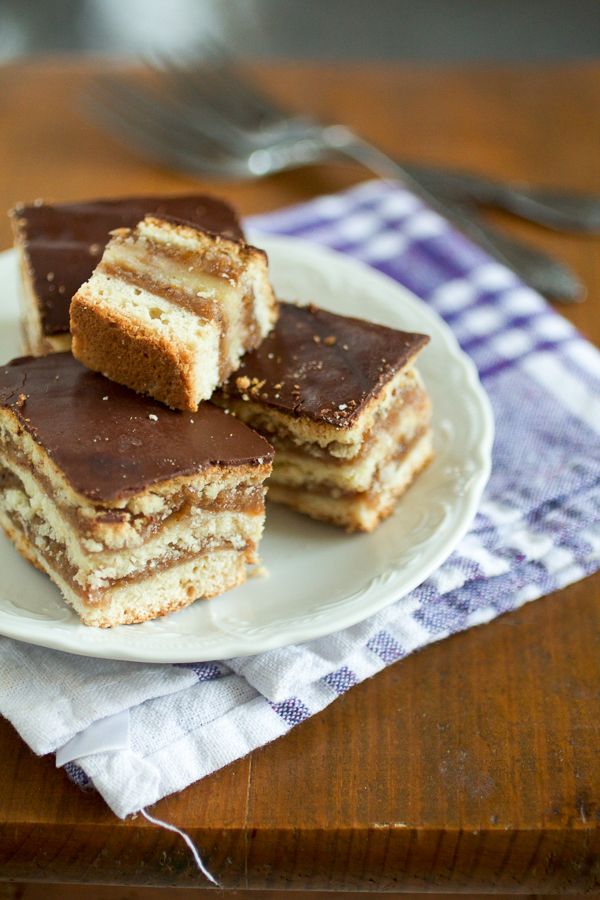 Please note there is a 45 min waiting period between preparing and baking the dessert. Baking paper and a 12×16 inch rectangular pan are needed for the recipe.