Bosnian stir fry (egg satarash): fast and furious four-ingredient Balkan vegetable stir fry. Eggs are optional but recommended. Satarash stir fry is a wholesome breakfast, and a great side too.
WHAT IS SATARASH, AKA BALKAN STIR FRY?
Satarash doesn't perfectly fit the description of what's traditionally defined as a stir fry: ingredients fried in super hot oil, over super high heat.  But I ran into the same problem I often run into when translating recipes: the word satarashhasn't really been translated before.
In these cases I have two choices:
Leave recipe name unchanged.

Look for a similar recipe with similar ingredients.
Leaving recipe name unchanged usually means the dish won't cross your radar. I've tested this several times. The only Balkan dishes you recognize are the familiar ones like

baklava

and

burek

. Everything else might as well be invisible. Even if the dish is exactly what you're looking for, unless its name alludes to something you've eaten or heard of before, you won't detect it.
So I've learned to give in and choose option 2.  Satarash, which includes working a few vegetables on stovetop, most closely resembles stir fry. And so the name was born. (Other good options included

menemen

which is basically a Turkish satarash, as well as

shakshouka

, a Middle Eastern version of the same.)
Now that you're aware of the similarities between Balkan and Asian stir fry, let's go over points of separation. Particularly heat and texture.
Traditional stir fry involves very high heat. Satarash, however, lingers between medium to medium-high. The difference in heat accounts for the difference in texture. Satarash vegetables that are more soft and chewy than crisp and crunchy. Also, there is a bit more sauce in satarash, sometimes even more than a bit of sauce depending on how you prefer it.
(While we are at it, although wok is not widely used in the Balkans if you have it pull it out! Satarash is easier to make in a wok than the pan.)
The basic version of Balkan satarash includes onions, peppers (red, yellow and green bell peppers work great), and a tomato or two. As usual, the spices are few (salt and pepper), mild and added to taste.
If you're feeling adventurous (and you consume these) add a bit of vegeta or vegetable bouillon. If you want to experiment further with herbs and spices, may I suggest paprika, parsley, and cumin? Start small and see where taste leads you.
The addition of eggs makes this stir fry into a protein-packed breakfast, so I decided to upgrade the dish. (Not an egg person? Want more sauce? Skip them! Or try our

risotto satarash

.) Eggs soak up the moisture and you almost end up with a tasty omelet.
Egg Satarash: Bosnian Stir Fry
Satarash: fast and furious four ingredient Balkan vegetable stir fry. Eggs are optional, but recommended. Satarash stir fry is a wholesome breakfast, and a great side too. 
2 tablespoons oil

1 yellow onion (large, sliced)

4 bell peppers (medium, diced)

1 large tomato with juice (large, skinned, diced)

Salt and pepper to taste

4 eggs (well beaten)

(Optional) 1/2 to 1 cup water

(Optional) 1/2 vegetable bouillon cube or 1 tablespoon vegeta (instead of salt)
In a large pan heat oil over high. Add onion and lower temperature to medium. Simmer until translucent, or about 3-4 minutes.

Add peppers, stir and cover the pan. Simmer 6-8 minutes.

Add tomato, water (if using) and seasonings.* Stir and cover the pan. Simmer 10-12 minutes.

Add eggs and stir. Simmer until eggs are done, about 2-3 minutes. Serve hot.
Simmering time is approximated. It may take a little more or less.
If not using water, stir more frequently and cook on lower heat to avoid vegetables burning.
Nutritional information is based on 4 people. If making this as a side dish, it serves about 4. If it's the main meal, it serves about 3 people.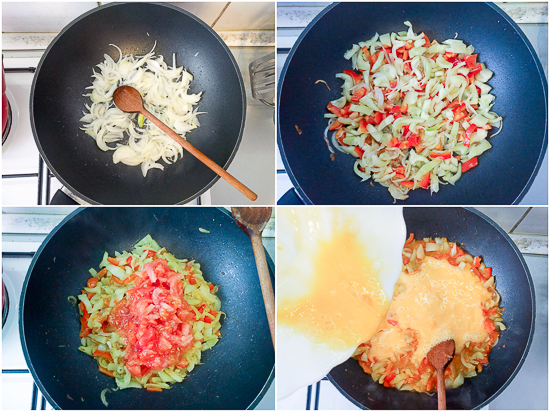 Nutrition
Serving Size:

1/4 of pan

Calories:

181

Sugar:

8.7g

Sodium:

361mg

Fat:

11.6g

Saturated Fat:

2.3g

Carbohydrates:

11.6g

Fiber:

2.8g

Protein:

7.5g

Cholesterol:

164mg