Bosnian fermented Juniper Berry Juice (aka smreka), is a sour and refreshing, lemonade-like beverage, perfect for quenching the thirst on a warm evening.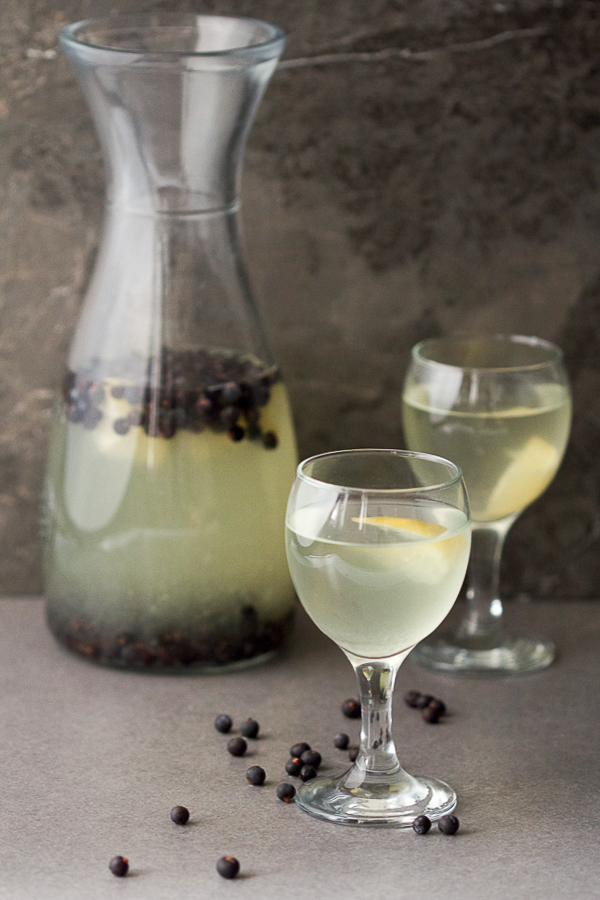 Almost everyone who comes to Sarajevo in late spring is surprised by the variety of unusual yet tasty homemade juices available at local cafes. Come May, there's the ubiquitous zova made out of the elder tree flowers (also known as zova) which blossom around that time. There is also the fantastic rose juice (sok od ruže or djul šerbe), made from local wild rose petals.
And then there is smreka – the fermented juniper berry juice.
Have you tried it? If not, you should! Because smreka is simply perfect.
Although the mention of fermented plants evokes the taste of sauerkraut, think of juniper berry juice as a "more sour than usual" lemonade that can be consumed as is, or made sweeter with honey or sugar. It's very refreshing, and perfect to go along with local desserts such as the walnut stuffed apples (tufahije).
People take to smreka quickly, and some make their own after returning home. I've had a few requests for a while, and below is the recipe I've used with great success.
(As with anything fermented, there is no rule that's cut in stone. You may like to ferment berries without lemon. You may like to leave the juice to ferment longer than 10-15 days. Or you may think 7 days is enough. Fermenting recipes are more of a framework within which you'll figure out your own preferences.)
In addition to this juice, juniper berry is known for being an active ingredient in several other Balkan delicacies, including the homemade juniper berry brandy (rakija klekovača), as well as gin.
The plant itself is said to have many different health benefits, and is widely used  in the area. The juice is an excellent diuretic, and is also recommended as an aid against coughing, asthma, stomachaches and uti's. It's said to be especially effective for stomach problems of all sorts, and is often recommended by the doctors here to patients suffering with kidney stones. When made into oil, juniper berries are excellent to use in massaging areas affected by the rheumatoid arthritis.
P.S. We've done additional interesting beverages before. Do you remember sour cherry liqueur? Or the elderflower cordial? If you don't feel like fermenting drinks, how about some white wine lemonade?


The berries sometimes travel up and down the jar. If you've used a lot of berries, a lot may not even fall to the bottom before the juice is ready. That's fine. Tasting the juice, and discovering its tart, sour and refreshing flavor is a sign smreka is ready to be consumed.