Ajvar: the world-famous Balkan roasted red pepper and eggplant relish. Smokey, deep, rich. Unforgettable.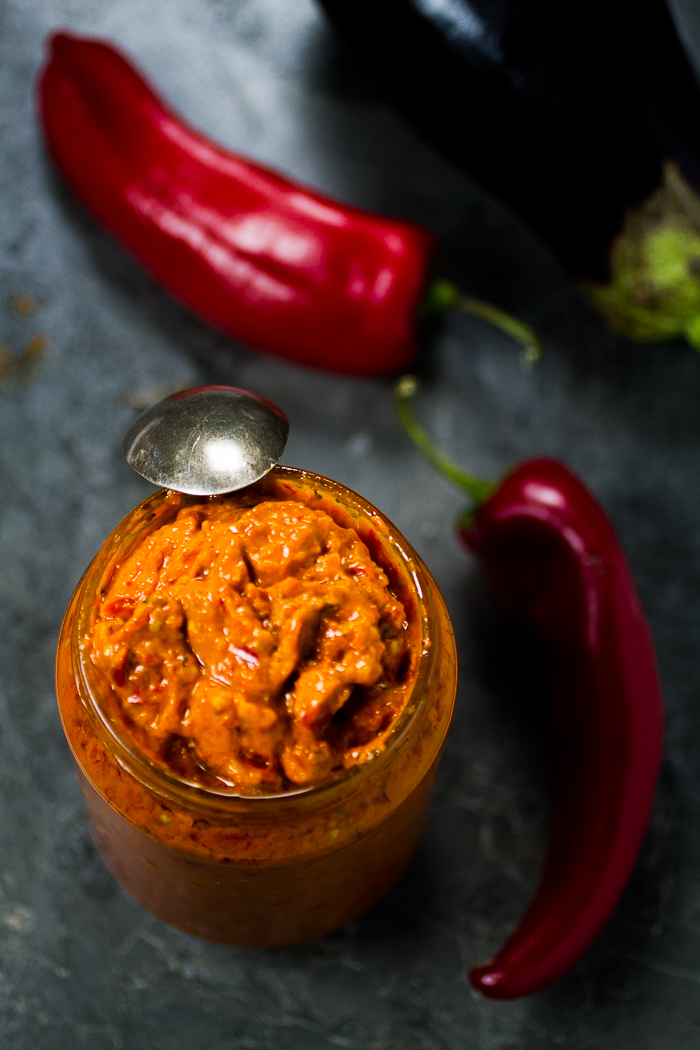 Even if you know very little about Balkan cuisine, you probably heard someone mention, ajvar (pronounced "AY-vahr").
Ajvar is a relish (spread, preserve) made primarily with eggplants and red, bull's horn sweet peppers, called so due to their long, thick, pointy appearance reminiscent of a horn.
These peppers are known as "roge" in the region. You may come across them under the name of  Italian "corno di toro" – bull's horn – peppers. (Don't confuse them with hot cow horn peppers.)
Your best bet is to look for these peppers at the farmer's market. If you can't find them, go for regular bell peppers. They must be the red kind though.
(Some recipes call for more ingredients like garlic and chillies.)
Ajvar's sometimes referred to as chutney. But every chutney I've ever had had been sweet. Like jam or marmalade. And while ajvar can, and often does have sweet undertones, it more closely falls under the relish or spread category.
A relish is defined as a condiment made by cooking, pickling, or chopping a fruit or a vegetable. However, this definition is too simplified for ajvar.
For one, when we think of relish, most of us think chopped pickles in little bags at fast food places. (My dad loved relish. He used to ask for it at McDonald's. Except they rarely had it at McDonald's. They'd get annoyed. He'd get upset. His next step was to ask for a Pepsi. Then the war was really on.)
Secondly, a condiment is a sauce added to food to impart a flavor. Certainly ajvar can be, sometimes is, added to food to enhance its flavor. But ajvar is also independent.
It doesn't need anything to enhance it, nor does it need to enhance anything. It's most flavorful, most rich when spread in a thick layer on a piece of homemade bread. You can't do the same with sauces or salsas.
As evident, I'm not completely sold on categorizing ajvar.
One prepares ajvar by first roasting eggplants and peppers, and then peeling, chopping, and finally cooking them. Industrial ajvar (store ajvar) usually consists of ingredients which have only been cooked. Don't eat this kind.
I'd hate for you to miss out on its real taste.
On its richness, and smokiness. On all the effort peppers and eggplants gave roasting in the oven. On all the time that goes into preparation, returned tenfold in that final moment when, after spending several hours with only one goal in mind, you understand you just may have achieved your highest culinary point as of yet.
If you still decide to go with a store brand, there are two things you can do.
One is to look for the Baš Ajvar brand. (This is not an advertisement.) It's the best industrial ajvar although their quality declined in the past few years. What surprised me is that Baš Ajvarexported to the US is better than the one in Sarajevo stores.
It must be the Nutella effect. Did you know there are different quality Nutellas? Nutella you buy in Germany is better than the one you buy in Serbia for example.
(It makes you a disappointed with humanity to find these things out.) Secondly you can buy any ajvar and improve it.
A lot of people do it this way. They get several jars of ajvar and smaller quantities of peppers and eggplant. Then they roast peppers and eggplants, peel them, chop them, and cook everything together with the store ajvar. (I'll write up a recipe for this sometime.) This is the best way to make ajvar and control its taste without having to do it from scratch.
It's hard to pinpoint where ajvar originated, as it's made all over ex-Yugoslavia. If you want my advice, don't ask people from the Balkans where things come from. Especially regarding something as basic as ajvar, the spread for which each family has a preparation technique spanning over generations.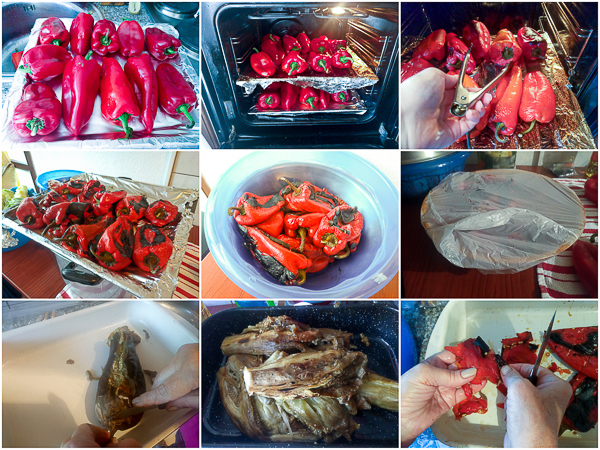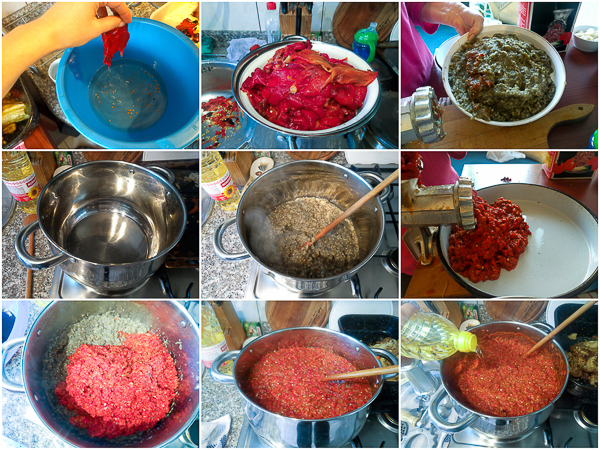 AJVAR:
 
JARRING:
 
EQUIPMENT:
In absence of bull's horn peppers, use red bell peppers. (Make sure to only use the red kind.) Do not make the mistake of buying how cow hot peppers.
The original recipe calls for 22 pounds of bull horn's peppers to 7 pounds of eggplant. I always buy more ingredients because you never know if the peppers will be easy to peel. Some aren't, and you lose a portion of them. Even within bull's horn peppers, it is hard to determine which batch of peppers will be good for ajvar and easy to peel.
If using oven rack instead of a baking pan, just know it'll be faster but the rack will get a little damaged during the process.
For ajvar with smoky aroma and taste, roast peppers and eggplants on a wood stove (if you have one). Otherwise, a regular stove will do great. However there is a difference in time if you are cooking on a gas stove versus electric. Electric stove in this case is better for ajvar, and you will cook on the low setting.
Gas stoves on the low setting still end up giving off a higher level of heat and thus the cooking time is cut short (to about 2.5 hours). Although this seems like a better deal, for the this recipe you really want to cook longer, to give the ingredients a chance to really achieve a certain deep taste. Therefore if you have one of those stoves with both gas and electric, cook ajvar on the electric range. You've already put in so many hours of work, what's a couple of more?
How to recognize your ajvar as being done? Look for the deep orange hue, making sure it's not moving over to the brown tones. Check with a spoon or a spatula that it is creamy. Try it, and test if it's to your liking.
Obviously it would be faster to just use one rack. However you'd have more batches of peppers and eggplants to do. In the long run, you're better off using two racks, or a rack and bottom of the oven.
You don't have to wear latex gloves, but you'll protect your fingers if you do.
Keep smaller kids away from the kitchen while cooking ajvar. The ingredients are essentially boiling the entire time, so you want to prevent any accidents.
It's hard to give an exact amount of jars needed. Just have about 10-15 smaller jars ready. The smaller they are, the better, (and obviously you'll need more if you have very small ones). Why? If you put ajvar in a big jar, and leave it in the fridge and then forget about, it'll go bad after a while and you'll be wasting all that effort. When you have a small jar (we're talking 12-ish ounces or so, you can even use baby food jars) you'll use up that ajvar quickly, and you'll use up all of it. Smaller jars are also great as gifts.
You can double the amount of ingredients and make a larger batch. It'll take a little bit longer during peeling and roasting, but the cooking process stays the same. If you're feeling adventurous I urge you to try doing this.
If you have any questions, please do not hesitate to ask. This is a time consuming project, but it's one the best things you'll make in your life. That's a promise.